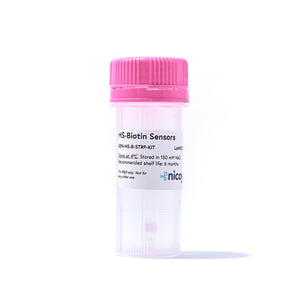 High Sensitivity Biotin Sensors
SEN-HS-8-BIOTIN
Regular price
$349.00 USD
$0.00 USD
OpenSPR High Sensitivity Sensors are made with a specialized nanogold surface to provide an extra boost of localized sensitivity close to the sensor surface. The increased localized sensitivity is particularly advantageous for small molecule analysis, and can also be used to enhance the signals of other larger biomolecules that interact close to the surface.
High Sensitivity Biotin Sensors are used to capture Streptavidin, or biomolecules containing a Streptavidin tag onto the sensor surface for analysis in OpenSPR instruments. The biotin-streptavidin interaction is extremely strong, making this a robust and reliable immobilization method. Sensors are provided in a package of 8 or 3.
Note: High Sensitivity Sensors are only compatible with the 2-Channel OpenSPR.
Additional information
| | |
| --- | --- |
| Quantity  | 8 or 3 |
| Storage Temperature | 4-8 °C |
| Shelf Life | 6 months |
| Ships Within | 1-2 weeks |
---
More from this collection